Jump to menu
Regional Communities
Regions for analysis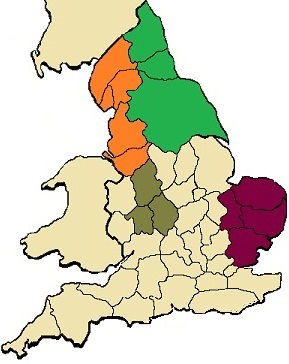 Number of nuns in dataset with connections to each region
| | Total | Born in region | Mother associated | Father associated | Earliest entry | Latest entry |
| --- | --- | --- | --- | --- | --- | --- |
| East Anglia | 339 | 146 | 142 | 226 | 1599 | 1793 |
| North East | 439 | 212 | 211 | 340 | 1599 | 1797 |
| North West | 394 | 199 | 164 | 274 | 1599 | 1798 |
| West Midlands | 267 | 109 | 138 | 132 | 1609 | 1793 |
NOTES:
Only nuns with place associations by birth or parentage are included in the analysis.
An individual nun may have associations with multiple places through her birth and her parents (the maximum number of associations for a single nun in the database is 5).
An individual nun may have multiple associations with the same region or associations with more than one region.
Consequently, all figures in this analysis are counts of associations rather than individuals.
Distribution of nuns with regional associations by convent