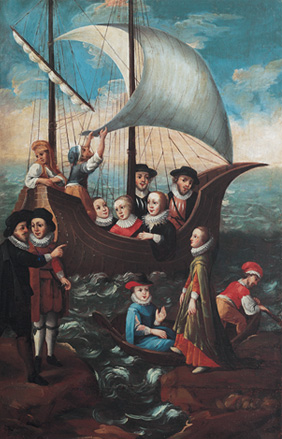 Scene from the Painted Life of Mary Ward. Mary Ward and some of the first seven Companions setting sail for Flanders. Reproduced by permission from Geistliches Zentrum Maria Ward, Augsburg, and Foto Tanner, Nesselwang, Germany.
Search
About the project
Since 2008, the 'Who were the nuns?' project team has been investigating the membership of the English convents in exile, from the opening of the first institution in Brussels to the nuns' return to England as a result of the French Revolution and associated violence.
Most were enclosed convents, in theory cut off from the outside world. However in practice the nuns were not isolated and their contacts and networks spread widely.
On this website you will find a database of the membership, family trees, edited documents, maps and analysis of the nuns' experiences.